This is a great little applique to use if you're making Super Mario Mushrooms - it's perfect for the top of the purple mushroom! It's really versatile, so it's really easy to customize it to your liking!I paired mine with Linda Potts/Wolfdreamer's Mario Brother Mushrooms Pattern
This pattern was revised and updated.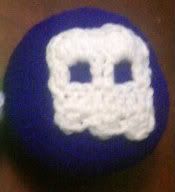 Pattern and photos are Copyright © 2012 Lillian Minneman - Just Stitched. Pattern shall remain free, and may not be reproduced or sold. Feel free to link to this pattern.
Materials:
G/6/4.25mm Hook
WW Yarn in White
Row 1: Chain 10
Row 2: DC in 3rd ch from hook, DC in next, slst in next, *DC in next 2st, slst in next st* (9 st)
Row 3: Ch2, turn. Working across back side of beginning chs, DC across (8)
Row 4: Ch2, turn, DC in same st as ch2, ch2, skip 2 st,
DC in next 2 st
, Ch2, 2DC in last st. (5 DC)
Row 5: Ch2, turn, DC in next st, 4DC in chain space, DC in next 2, 4DC in chain space, Ch2, slst in last st.
F/O. leaving long tail for sewing. Weave in beginning end. Sew on.
Here's a few ways to customize:
In Row 2, add a picot between the DC's to make pointed teeth.
Add extra rows between Row 3 & 4.
In row 4, instead of DC (bolded text), SC or slst for slightly sinister-looking eyes.
Add extra rows after Row 5.
The possibilities are endless! Have fun!
If I forgot anything, or something doesn't make sense, please contact me!
Find me at:
http://www.facebook.com/pages/Just-Stitched/308561265852550
http://www.ravelry.com/designers/just-stitched
http://juststitched.tumblr.com
http://juststitched.blogspot.com